Designing Mixed-Reality Experiences
How to responsibly design open transmedia environments engaging audiences and using critical theories, speculative design, and distributed leadership? Can technology work for the benefit of excluded, both human and nonhuman actors, and reveal the essential problems of traumatized places, historically unclear and hidden events?
Type

Talk

Location

Virtual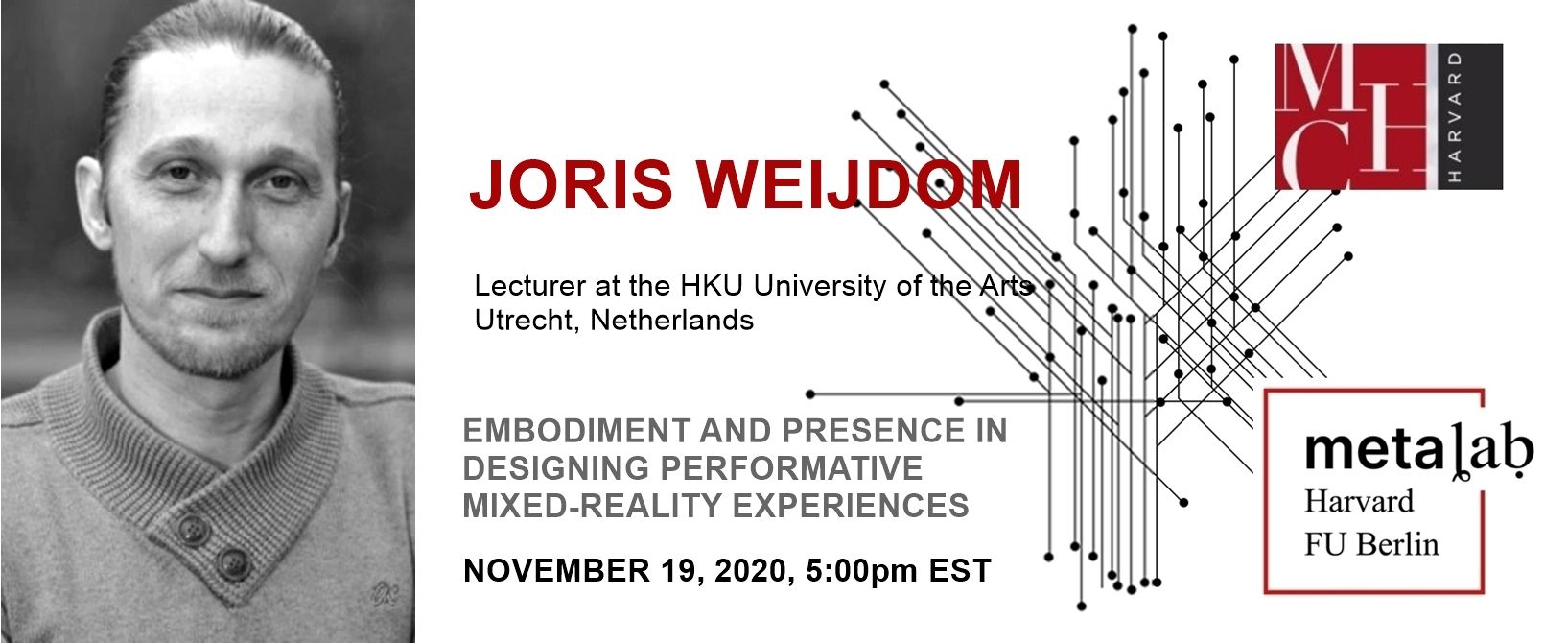 EMBODIMENT AND PRESENCE IN DESIGNING PERFORMATIVE MIXED-REALITY EXPERIENCES
In the last few years, virtual reality (VR) and augmented reality (AR) have seen rapid development in usability and accessibility. As a result, such technologies increasingly appeal to performing artists who want to explore their creative potential. Unlike the 90s, when escapist ideas embraced disembodied cyberspace, current VR/AR experiences are purposely embodied and connected to the actual physical environment. In this lecture, Joris Weijdom discusses some of the key concepts, such as embodiment, presence, and immersion, that concern mixed-reality design in the performing arts. He introduces examples from his own practice as well as the interdisciplinary projects of other artists.
**Joris Weijdom **is a researcher and designer of mixed-reality experiences focusing on interdisciplinary creative processes and performativity. He is a lecturer at the HKU University of the Arts Utrecht, where he founded the Media and Performance Laboratory (MAPLAB). From 2012-2015, MAPLAB enabled practice-led artistic research on the intersection of performance, media, and technology. Joris currently leads the mixed reality research group of the Professorship in Performative Processes and teaches several BA and MA courses. As part of his Ph.D. project, he researches creative processes in collaborative mixed reality environments (CMRE) in cooperation with the University of Twente and Utrecht University.
Website: hku.nl/en/research/professorsh…
metaLAB is partnering with the Mahindra Humanities Center to sponsor the Transmedia Arts Seminar, chaired by Magda Romanska, and Hana Worthen.