Decentralized Storytelling
Transmedia Arts Seminar
From banking to retail to education to entertainment – consumers, students, and fans are taking control. The blockchain is ushering in new opportunities for storytelling, collecting, and the monetization of digital assets.
Type

Seminar

Location

Virtual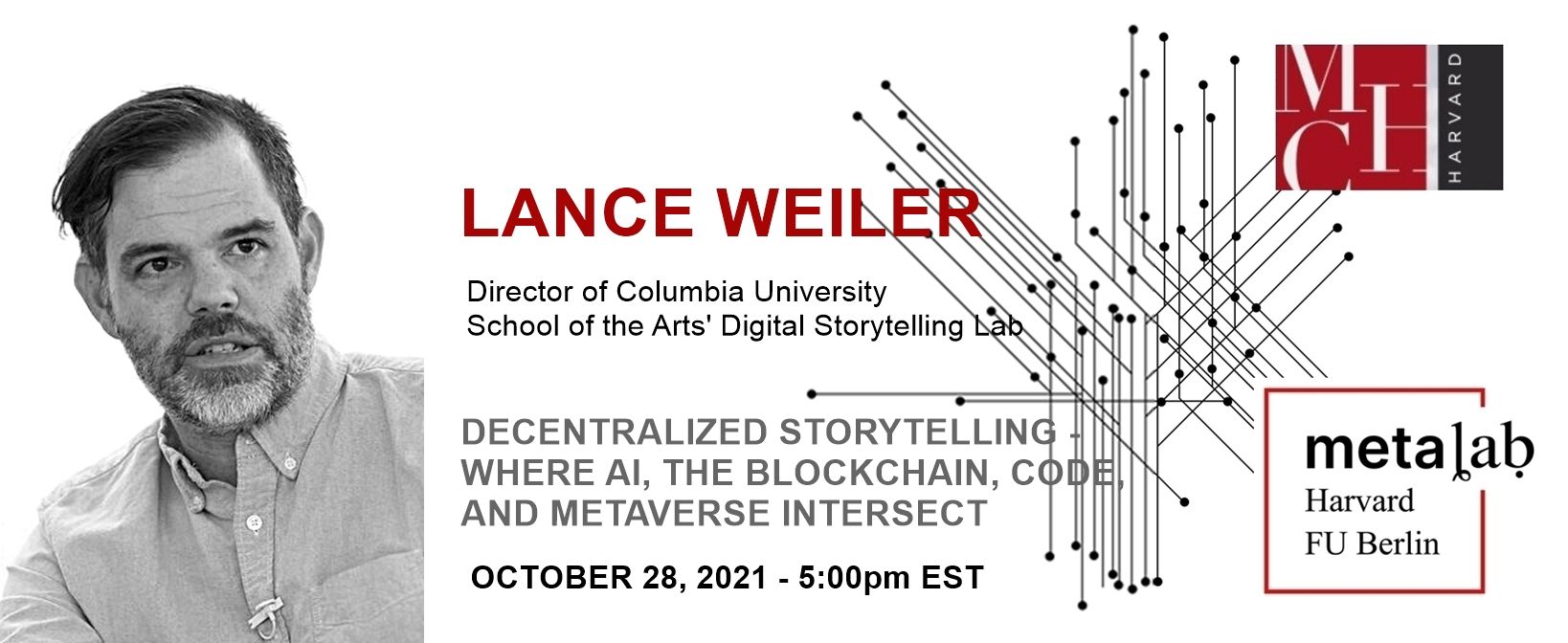 DECENTRALIZED STORYTELLING – WHERE AI, THE BLOCKCHAIN, CODE, AND METAVERSE INTERSECT
We find ourselves in a unique moment where traditional systems are being decentralized. From banking to retail to education to entertainment – consumers, students, and fans are taking control. The blockchain is ushering in new opportunities for storytelling, collecting, and monetization of digital assets. This, combined with advancements in AI, gaming engines, and mixed-reality-based technologies is giving rise to the metaverse – a collective shared space that has the potential to bridge the virtual and the physical in unexpected and powerful ways. The rapid democratization of technology has led to a new wave of immersive storytelling that spills off screens into the real world and back again. These works defy traditional constraints as they shift away from a one-to-many to a many-to-many paradigm, transforming those formerly known as the audience from passive viewers into storytellers in their own right – enabling them to craft and collect the stories and experiences that surround their lives. New opportunities and limitations offered by emergent technologies are augmenting the grammar of storytelling, as creators wrestle with an ever-shifting digital landscape, one where story and code collide.
Lance Weiler is a storyteller, entrepreneur, and thought leader. An alumnus of the Sundance Screenwriting Lab, he is recognized as a pioneer in mixing storytelling and technology. WIRED magazine named him "one of twenty-five people helping to re-invent entertainment" when he disrupted the industry with the release of his first feature, The Last Broadcast. Weiler co-wrote, co-directed, co-produced, and ultimately self-distributed, The Last Broadcast, which was made for 900 dollars and went on to gross over 5 million dollars as the first all-digital release of a motion picture to theaters via satellite. The distribution methods that Weiler introduced have since become the standard for digital cinema distribution today. After the success of The Last Broadcast, he began to work extensively as a writer, director, and producer, developing TV and film properties for FOX, TNT, Starz, and Endomel. In addition to his own projects, Lance often collaborates with other storytellers. In 2010 Lance was nominated for an International Emmy in digital fiction for his work on Collapsus: The Energy Risk Conspiracy. In 2014 Lance was the Creative Director and Experience Designer of Body/Mind/Change, an immersive storytelling project in collaboration with David Cronenberg, TIFF, and the CFC. Body/Mind/Change was recognized for its innovative use of story and code, winning the MUSE Jim Blackaby Ingenuity Award and receiving a Webby Honorable Mention in the Games and Augmented Reality category. Weiler's creative uses of emergent technology have made him a highly sought-after thought leader in the entertainment industry – in particular supporting companies in reshaping their media holdings for the 21st century. He has consulted on programs and initiatives for IBM, Twitter, Microsoft, Samsung, Chernin Entertainment, Ubisoft, Penguin Books, the US State Department, CAA, Ogilvy, McCann-Erickson, and others. In the process, he has helped create, design, and shape entertainment properties that have reached billions of people. After speaking at the World Economic Forum in 2012, Lance was invited to serve on two steering committees, one focused on the Future of Content Creation and the other centered on Digital Governance. Since 2013 Lance has been a Founding Member & Director of the Columbia University School of the Arts' Digital Storytelling Lab (DSL), leading the lab's activities and helping to shape its enduring vision. The DSL's mission, to explore new forms and functions of storytelling while encouraging cross-disciplinary collaboration, focuses specifically on the ways in which story can be harnessed as a tool to innovate, educate, mobilize, communicate, and entertain.
metaLAB is partnering with the Mahindra Humanities Center to sponsor the Transmedia Arts Seminar, chaired by Magda Romanska.